Talk on China's Economic Development

UTAR Tun Tan Cheng Lock Centre for Social and Policy Studies (TCLC), Belt and Road Strategic Research Centre (BRSRC) and Institute of Chinese Studies (ICS) jointly organised a talk titled "China's Economy and its Opening: New Era, New Goals and New Tasks" with the assistance of UTAR Centre for Foundation Studies (CFS). It was held at Sungai Long Campus on 20 August 2018.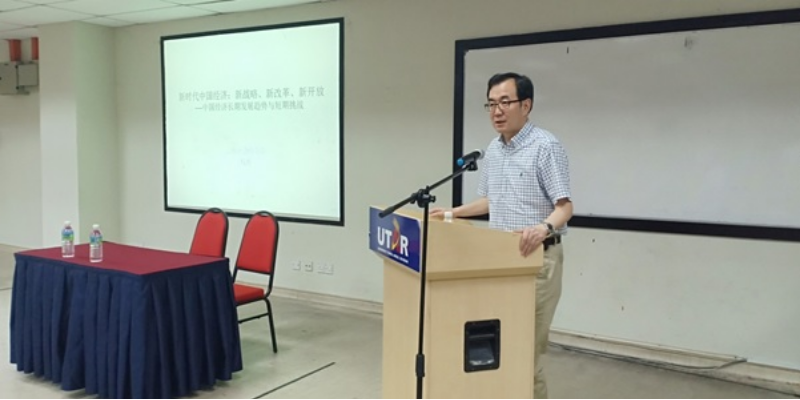 Prof Quan delivering his speech
The talk was sponsored by the Institute of Strategic Analysis and Policy Research (INSAP). Invited to deliver the talk was Prof Quan Heng, Vice President of Shanghai Academy of Social Sciences (SASS) and Director of Institute of World Economy, SASS. Present at the talk were The Associated Chinese Chambers of Commerce and Industry of Malaysia (ACCCIM) Chairman of SMEs and Human Resource Development Committee Koong Lin Loong, Belt and Road Strategic Research Centre Chairperson-cum-Institute of Management and Leadership Development Director Prof Dr Cheng Ming Yu, TCLC Chairperson Assoc Prof Dr Chin Yee Mun, ICS Dean Assoc Prof Dr Chong Siou Wei, public, students and staff.
At his talk, Prof Quan provided the background of China's economic rise and explained the long-term development trend as well as the short-term challenges of China's economy. He also discussed the issues of income inequalities between people and regions and the contradictions that occurred in China's economic and social development in the new era. According to him, China emphasised rapid growth in the past but now focuses more on high-quality development. China also actively promotes international cooperation through the Belt and Road Initiative and promotes common development of neighbouring countries and regional countries.
The talk ended with an interactive Q&A session, followed by a group photography session.
Prof Quan (front row, fourth from right) with participants

Prof Quan has been long engaged in extensive research on China's economic development and income distribution problems, poverty and development issues, urban and regional economic development matters as well as income disparities. Currently, he is leading a research group that is studying the relations between China's economy and world economy, particularly from the perspective of One Belt, One Road Initiative. He has also authored a great number of books such as "Modern Analysis of Income Distribution and Economic Growth: Theory and Experience from China's Transition" and "Income Mobility and Free Development: Study on Income Mobility and Income", to name a few.